Wednesday, May 30, 2007 by Nick Chan
The secret product that Microsoft going to release which
I had mentioned earlier
is Microsoft's Surface before that it's call Project Milan. Surface is a multitouch computer having the similar concept as the Apple iPhone. Microsoft calls "surface computers" which use touch as the sole method of input.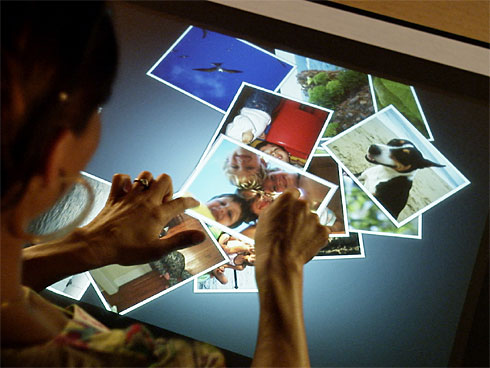 Photo resizing and stacking works much like the iPhone's zoom gestures. Also cool is the capacity for multiple users. Drawing and painting with your fingers acting like dipping into paint and paint your own Monalisa sounds fun.
This very cool tech comes at a high price, $10,000. Why so high? Because it's a cool gadget,
mah
(Malaysian slang)! However, Microsoft expects prices to plummet over the next few years to the point they'll be in your homes. And I read that you are able to play with them at the T-Mobile stores. Sad, no T-Mobile in Malaysia.
So, what I predicted was wrong! Haha, I thought it was a phone. This thing kinda cool to have it, but without a keyboard will be hard to type. Having it in the car and on the table in the living room will be nice.
[Source from MacRumors and Gizmodo]